Your library is now equipped with several shared and collaborative workspaces, designed to meet the needs of students, staff and external visitors.
The Source offers four meeting rooms.

They are spaces for creativity and cannot be booked. If nobody is inside, feel free to use them.

The first two are the Nile (B111 – 6 seats) and the Chang Jiang (B113 – 5 seats).
The Mississippi (B114 – 6 seats) and the Amazon (B115 – 6 seats) are equipped with touchscreens connected to the Internet.
For rooms equipped with screens, boxes containing the necessary equipment (connection cables, screen or glass markers) are available! Go to the Source reception desk to borrow them in exchange for your student or professional card.
Come and discover the most colourful individual or collective workspaces at The Source!
These semi-open cabins near the entrance to The Source are freely accessible by all.
They are equipped with acoustic walls and lights as well as electrical outlets.
The yellow cabin can accommodate up to 3 people and the blue cabin up to 5 people.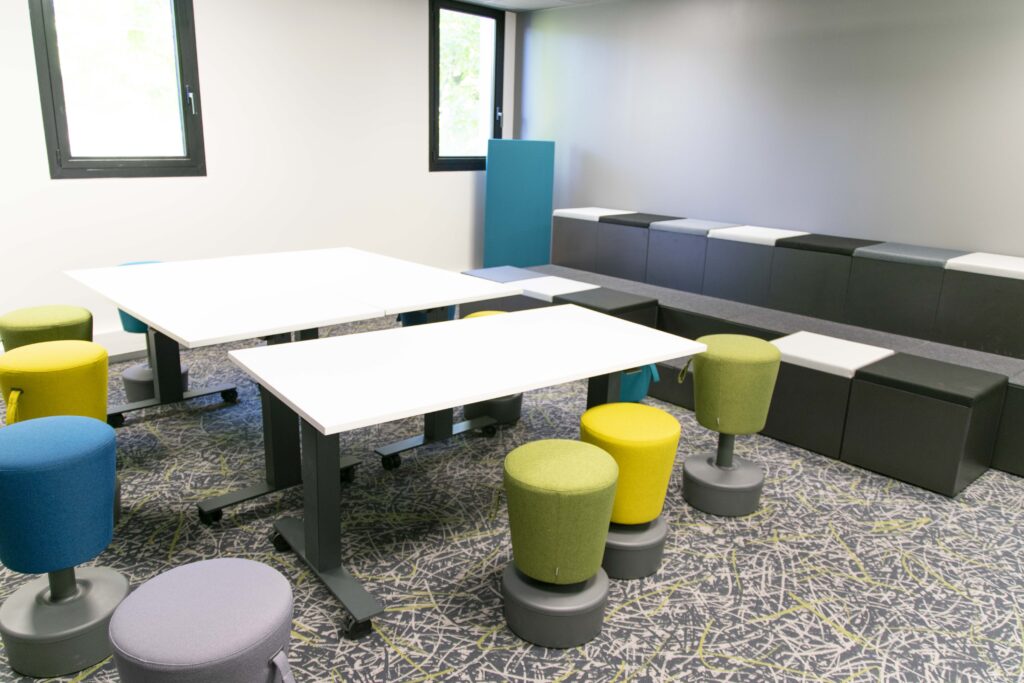 The Workshop (B108) is the animation, creativity, meeting and training room attached to The Source.
It can accommodate up to 26 users simultaneously, with 14 seats on the stands and 12 height-adjustable stools.
It is especially designed for dynamic training or meetings during which participants are mobile, work in small groups, speak face-to-face…
The tables in the room are mobile and adjustable in height. The Workshop is also equipped with a touchscreen equipped for videoconferencing and connected to the Internet.
It is necessary to make a reservation to use the Workshop. Isara-Isema staff members can book it via the "Work space booking" application on the Isar@net portal. Students cannot reserve the Workshop.
A collective organization
Please respect simple rules of civility:
Leave the spaces clean and configured the way you found them.
Turn off the screens after use.
Do not block a common space without occupying it.
Cancel a reservation if there is a change in your schedule.
We look forward to welcoming you at The Source very soon!